A word of thanks and appreciation by Edwin Siu (Fellowship Dept)
Thanks for your support for today's Carnival!  As Rev. To mentioned, we see b&s from all fellowships, from all languages united to come serving, supporting and participating in this meaningful event to our community. We are one in the Spirit, and we are one in the Lord.
Without naming names I would like to thank:
Those who come at 8am to help with the set up and stay all the way till the end with the take down.
Those b&s who helped with the garage sale
B&s who help with the serving of the food – seems we should have prepared more food 😉
B&s who help serve on stage, and those who help with the welcome desk and ticket booth.
And many b&s who help at the children center to keep children safe and manage the game stands
And our church staff who worked tirelessly to ensure all needs are served – especially the need for power…
And many more b&s who come and participate in today's event.
And, it is our God who unite us in One Spirit that we have to be thankful for, who, among His many provisions, gave us a wonderful day without rain.
There are areas that we will have to improve. And we will have an evaluation shortly.  Feel free to send us any comments.
We will tally up all garage sale proceeds and announce via Sunday Bulletin – these proceeds will go towards Markham Food Bank.
Proceeds from ticket sale for food and games will be used to offset operation cost.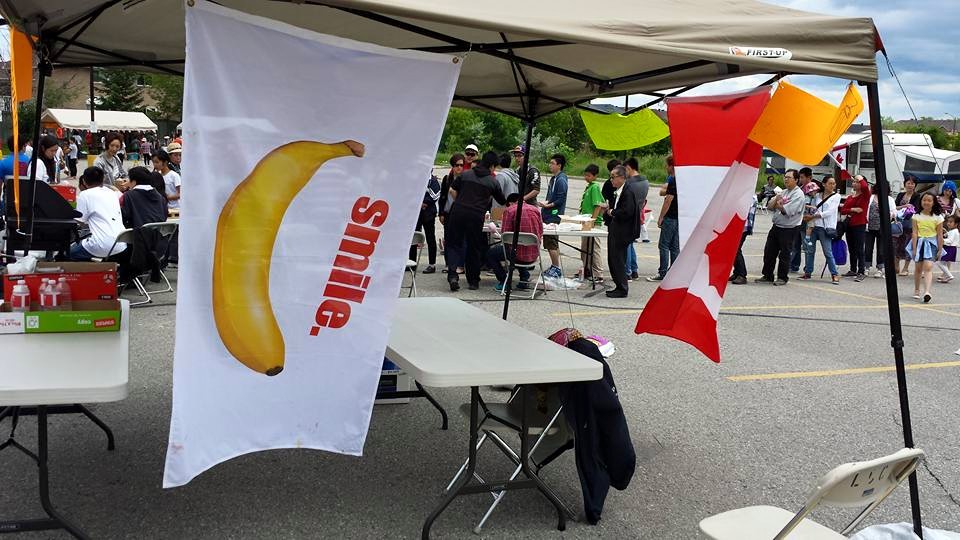 Special thanks to No Frills who donated today's hot dogs and buns… And to Simon Wong who donated 東江魚蛋 for the event.
I believe many of our neighbors came and enjoyed today's event.
And I believe that we have cast a positive image to our neighbors and that they know our church does welcome them.  And this will help in future neighborhood visitations.
For those teens who helped out in today's event we will be signing off volunteering hours.Please complete your form and bring it to the attention of Flora Ho at the Children Centre this Sunday.
Thanks all
Ediwn Siu
Photo credits goes to :
Raymond Chan (Elim Fellowhship)
Tiffany Kwan (Zion fellowship)