Welcome ALL to Worship!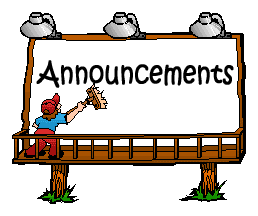 If this is your first time at Logos, please visit our Welcome Table and kindly sign up in our guest book!
Next Sunday EM/YM Joint Summer Life Together Worship Speaker: Pastor Mike Wong
Sunday Service
Our Sunday worship starts at 11:30 a.m. with a period of 15 minutes for us to pray and reflect. We encourage you to make use of this time to prepare your hearts to worship and enjoy the presence of God.
EM/YM Summer Joint Worship – Summer Life Together
Morning Life Sharing session begins at 9:30 in B12 and the worship session starts at 11:30 a.m. in the gym.
It will be held on July 1 Canada Day in the church parking lot. This is a good opportunity to connect with our neighbors through different activities. We sincerely invite all to help out. Please come to the information desk in the Fellowship Hall to sign up.
Volunteers going to distribute promotional pamphlets this afternoon are required to gather at Room B12 at 1:30 for kick-off briefing.
On July 1st, we are allowed to park our cars on both sides of Old Kennedy Road (North of Steels) from 10 am to 6 pm. All vehicles must be parked according to the regulations and instructions posted on the notice board outside the main office.
WEB Site Connection
Our Church WEB site had been updated. All brothers and sisters are welcome to surf www.logosbaptist.com , Facebook, Twitter and provide suggestions. Please see the first page of this bulletin for link addresses.
Mission Department
Joint Short Term Mission Team to Trinidad and Panama
Mrs. Julie To, the family of Philip Tse, together with other team members Chris & Grace Ho of LBC York Region departed on June 27th and the family of Rev. Wilson Lu will depart on June 29th to join the team.
Beyond the Fence – Care for Muslim
Please join us in praying for our Muslim neighbors as they celebrate Ramadan, their Holiest Month, from June 18th to July 17th.
The church will be hosting an English summer camp on leadership for current students in grade 5 – 8. There are 2 sessions, Session 1 July 6-24, and Session 2 July 27-Aug 14. The cost will be $300 per 3 week session or $550 for both.
Children VBS (8/17-21), 1 week program for students currently in JK to Gr. 4. VBS registration deadline has been extended to the community and non-church children. Please invite any new friends currently attending Junior Kindergarten to Grade 4s. VBS flyers and registration forms are available at the Children Centre.
Mandarin summer camp for New Comers, program is suitable for current grade 9 to 1st year college/university students. For more information please consult Rev. Wilson Lu and Pastor Peter Hao.
News for Pastoral
Stephen Chung will be preaching in Cornerstone Chinese Alliance Church this morning.
Wilson Lu's family will be leaving tomorrow for Panama and Trinidad for a 2-week short term mission.
Rev. David To will be on vacation from July 2nd to 16th to provide training and visiting family back in Hong Kong.