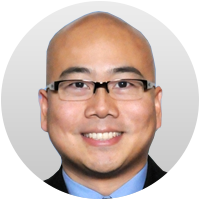 Dear Friends:
I hope you are having a blessed week!  We are entering the final stretch of 2018, can you believe it?  I am certain you have learnt valuable lessons and experiences this year.  God continues to be so gracious to our various circumstance, challenges and seasons.  May we focus on finishing the year well and look forward to what God has in store for us individually and as a community of Christ followers in 2019 and beyond.
I would like to express my heartfelt gratitude for entrusting me to be your Acting Senior Pastor.  Over the past months, my experience can be summed up with one word: humbling.  Thank you for your prayers, words of wisdom, patience, and partnership as I learn to follow His lead in serving through this new ministry capacity.
I have come to realize our Logos Church family has a rich history of "striving to actively live out the Great Commandment and fulfill the Great Commission of Jesus Christ."  It warms my heart to see many making Logos their spiritual home.  God desires people to meet Jesus and be discipled. That is our mission—to seek and point the lost to Jesus, and disciple them into doing the same.  If we are going to do this then we have to be intentional, and rely on the Holy Spirit to guide us.
As we journey together as a church to live out His message and mission, it doesn't take long to realize we live in a messy and broken world.  I ask God will give us the awareness and courage to take action upon what is happening around us locally and globally.  May our hearts break towards the injustice, the brokenness, the homeless, the victim, and those experiencing tragedy.  As we pray for "your kingdom come, your will be done", let us join hands together to pray for God's presence and power to reign.
I want to briefly recap my sharing from October's town hall (Oct 21st) regarding our vision and goals for the next upcoming few years.
Disciple Making Culture: Continue to roll out our disciple making roadmap for next 3 years into the current Logos infrastructure.  (Follow Me 2018, Fish For Men 2019, Bearing Fruit 2020)  Our goal is to move our focus from a "Me" (individual) towards a "We" (church community) ultimately towards an "Others" (non-believer) focused culture.  We realize and respect that each congregation will have its unique method in living this out.
Priority for the Now and Next Generation: Our obligation for the now and next generation in Logos.  We have an acute need in understanding, shepherding, and integrating His group (40 and under).  We need a plan for all language congregations.
Community Presence – Extension of Church: Impacting our neighborhood community in the name of Jesus.  Fine tune our strategy to reach out and engage those living around us through the participation of all language congregations.  At the same time look into ways in which we can live out our faith in communities where we reside.
Church Growth: We believe God not only to add disciples to our church but also believe that these people will commit to a life on life approach to community and disciple making (life impacting life-bearing fruit) – ultimately growing our Logos community.
Staffing/Resources: Review current staff/resourcing to ensure it aligns with our congregation/church vision and direction.  Prayerfully make adjustment or recommendation as needed.
Bi-literate vs. Bi-lingual: Majority of the church leadership have agreed that Logos should move towards a bi-lingual and bi-literate church, namely Cantonese and English, Mandarin and English.  We will set up a task force to look further into this in the coming year.
I look forward to journey with you for the years to come.  My hope, my prayer for us is that we as a church become people who see the world for what it is and take action to center our lives around to message and mission of Jesus Christ – to seek and point the lost to Jesus, and disciple them into doing the same.
Be blessed my friends!